This article is part of our NFL Draft series.
The draft is finally here and RotoWire is taking a detour from the standard mock draft content to bring you betting analysis for Thursday's first round. John McKechnie and Joe Bartel scoured the boards at multiple sportsbooks to find their favorite prop bets and the guys left no stone unturned. Their bets range from Power 5 Conference Over/Unders to Position of Team's First Pick to First Defender Taken to Player Toss-Ups and everywhere in between.
John's Top Props
Top 10 Pick: Jaycee Horn, Cornerback, South Carolina (+110 at DraftKings Sportsbook)
There are three teams picking in the Top 10 that could conceivably go corner (Detroit, Carolina, Dallas). That gives us some cushion to work with. Horn is, at worst, the second-best corner in this class and is going at plus money for this prop on DraftKings. Looking at the other options, there's little value at the top of the board with six players at -500 or more and that doesn't even include Trevor Lawrence, who is not on the board. Jaylen Waddle (-112) also catches my eye, but there are fewer obvious landing spots at receiver in the Top 10 as it currently stands. If he slips past Detroit at 7, that bet could backfire seeing as Ja'Marr Chase will be the first receiver off the board.
Dovetailing off this, Jaycee Horn is sitting at +300 as the first defensive player drafted. That's the second-highest odds behind Patrick Surtain II (-125). I don't see why the gulf between the two is so large, but that presents a buying opportunity.
Justin Fields Draft Position Under 7.5 (-122 FanDuel Sportsbook)
This bet has moved up a full spot from Tuesday when he was at 8.5 with the Over checking in at +160. I was inclined to go with the over, but this line movement has me reconsidering things. Perhaps the Justin Fields freefall was just the last gasp of this year's draft rumor cycle and he will end up going in the Top 5. Atlanta is a possibility, or Denver could trade up to the No.4 spot and make get him.
First Defensive Lineman Drafted: Christian Barmore, Alabama (+400 at DraftKings, +500 FanDuel)
Mario made note of this bet in his Prop Bet Article from April 16. However, Barmore was listed at +800 at that juncture. Now he's +400. I hope you listened to Mario then, but if you didn't, I hope you listen to me now. Jaelan Phillips (+125) is an interesting prospect with elite athleticism but a concerning injury history that could sink his stock. Kwity Paye (-110) is fine in his own right but not worthy of being the first defensive lineman off the board even though pass rush ability is more coveted than the space-eating type of gameplay that Barmore brings. The move from +800 to +400 is worth noting when it comes to Barmore.
There has been some notable line movement since I started eyeing up this bet. Paye, who was at -200 last week, was at plus money as of Tuesday and is now the odds-on favorite again at -110.
Player to be Drafted First: Caleb Farley (-134, was -150 on Tuesday) or Greg Newsome II (+107, was +120) at DraftKings
These toss-up bets are a pretty fun offering from DraftKings. I'm surprised these odds aren't flipped, though. Farley has a medical red flag stemming from a pair of back surgeries, one of which came in March that prevented him from working out at Virginia Tech's Pro Day. The talent is there, but durability concerns will likely drop him into the 20s.
Newsome has had some durability issues of his own, having missed three games in each of his last two seasons. However, those missed games were reportedly due to nagging issues than anything of Farley's severity. Newsome was able to work out at Northwestern's Pro Day and put down some strong numbers, headlined by a 4.38 40-yard dash and 40-inch vertical. There's no question that Newsome will be ready by training camp, and the same can't be said for Farley.
Medicals project to be the tiebreaker here, and though Newsome doesn't have the cleanest track record in that respect, it's still less concerning than Farley's. I'd bet Newsome to go before Farley at plus money.
First Round Over/Unders By Conference
This is a really interesting concept for a bet.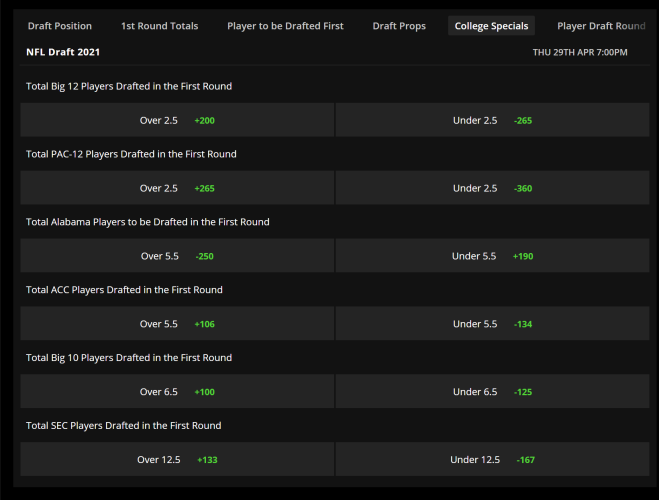 As you can see, the SEC has the largest number by far with its over/under sitting at 12.5. That's a staggering number, but it's worth remembering that the SEC also crushed the previous record (12) just last year with 15 players taken. Let's look at the first-round candidates by Power Five Conference and see if we can find an angle
| | | | | |
| --- | --- | --- | --- | --- |
| Conference | Total | Possible Players | | |
| SEC | 12.5 | (17 Possible Players) | | |
| Big Ten | 6.5 | (Seven Possible Players) | | |
| Big 12 | 2.5 | | | |
| PAC-12 | 2.5 | | | |
| ACC | 5.5 | (Five Possible Players) | | |
*Note: Notre Dame Players Not Included In ACC Bet, Per DraftKings
I went with exhaustive lists for each conference in terms of realistic first-rounders. But that doesn't mean that all of these players will be selected. So, where is the value?
First, the OVER 12.5 players from the SEC is definitely in play. Before you even look at the full list, look at the DraftKings picture. Their prop on Alabama players alone is Over 5.5 players at -250. So we can almost expect at least six Alabama players to go in the first right there (Mac Jones, Jaylen Waddle, DeVonta Smith, Christian Barmore, Patrick Surtain, and one of Landon Dickerson, Najee Harris or even Alex Leatherwood). So if we assume six Bama players are going, we just need seven more SEC players for this bet to cash.
Let's look at the possibles from there: Kyle Pitts, Ja'Marr Chase, and Jaycee Horn feel like locks. That gets us to nine. Then we have likely first-rounders like Elijah Moore, Azeez Ojulari and Terrace Marshall. That's 12. Then we would just need one of Kadarius Toney, Jamin Davis, Nick Bolton, Tyson Campbell or Eric Stokes to get picked. I like the odds of that happening.
Bottom line, even though 12.5 is a massive number, there are legitimate cases for 16 players from the SEC to be taken in the first round. I'd take the bet at +133.
Elsewhere, Under 5.5 feels right for the ACC. Trevor Lawrence, Christian Darrisaw and Caleb Farley feel like the only locks. Travis Etienne could fall to the second round, as could Jaelen Phillips. And even if both of them go, that still just gets us to five.
The Big 12 and PAC-12 project as unders as well, but with less wiggle room. From the Big 12, Teven Jenkins is the only true lock to go in the first, with Trevon Moehrig as a near-lock. The key will be how the league views the Texas guys because either Sam Cosmi or Joseph Ossai getting picked would put this on the over. As for the PAC-12, there are two locks in Penei Sewell and Alijah Vera-Tucker and then it's a crapshoot as to whether one of the Washington defenders (Joe Tryon or Levi Onwuzurike) get picked late in the first. I'd stay away from wagering either.
Finally, we have the Big 10 with the second-highest total on the board at 6.5. In my mind, the locks are Justin Fields, Rashawn Slater, Greg Newsome, Micah Parsons and Kwity Paye. While I projected Rashod Bateman to go at 20 in my recent mock, I don't view it as a guarantee that he goes in the first. Even if he does, we're left to count on Jayson Oweh being taken in the first round. That makes the Big 10 a stay away for me.
TL;DR: I'd bet OVER on 12.5 SEC players and UNDER 2.5 PAC-12 players.
Exact Outcome, Picks 3-5: Lance, Fields, Sewell (+2200 on DraftKings)
What good would this be without one crazy longshot? For better or for worse, I'm on the record in saying that I don't think Mac Jones is the pick at No.3. If that's the case, that's a major domino to fall and changes the entire complexion of the board for this bet.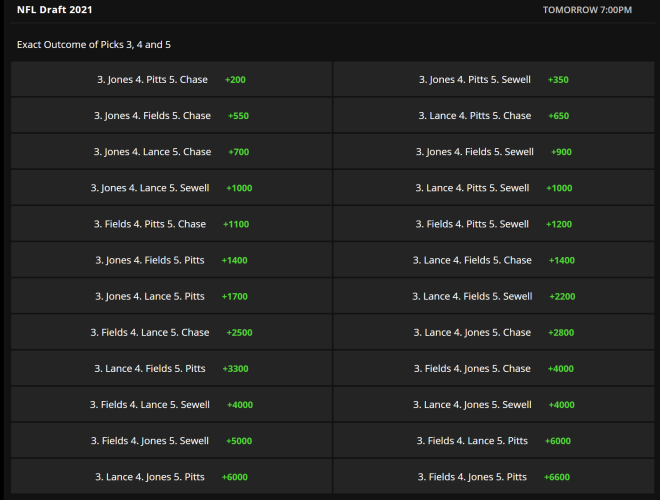 Fading Jones at 3 and having him slide would put some serious longshots in play. Of course, Jones is just one part of the equation and we still need the pieces to fall exactly right. My sense is that Lance is the pick if it's not Jones and that Fields would follow to the Falcons or Broncos at four. The Bengals are the last part of this, and while Ja'Marr Chase would be a great pick, I have to think Cincinnati will prioritize protecting their top pick from a year ago and take Sewell.
Lance, Pitts, Sewell at +1000 would be my other lean here, with Lance, Fields and Chase at +1400 close behind.
Joe's Top Props
Mac Jones selected over pick 3.5 (+230 on FanDuel)
You can probably get better odds trying to guess whether the 49ers will select Justin Fields or Trey Lance if you like this route, but it feels like FanDuel is just allowing you to take the guesswork out so I'll go with the lazy approach.
Count me among the numerous people who believe Jones is ill-suited for the No. 3 spot. Yes, I completely agree with the Mitchell Trubisky/Bears trade-up analogies, but let me instead point you in the direction of an absurdly spot-on take from Carter Donnick of The Draft Network.
If you're of the opinion chicken nuggets just aren't worth trading three firsts for, FanDuel is about the only place that offers this kind of odds.
Jaycee Horn first defensive player selected (+300 on BetMGM)
You could also go with +225 odds for Jaycee Horn as the first corner selected, but just looking at the way recent mocks seem to go, there doesn't figure to be a defensive player that sneaks into the top 10, so it makes more sense to just go with the first defensive player selected overall.
I duly admit if there's not a defensive player selected by No. 10, Dallas' incredibly obvious infatuation with Patrick Surtain II will make this bust, and admittedly he's the odds-on favorite for this bet. The No. 7 and 8 spots sure seem ripe for trade backs, however, and you could even throw the Broncos into the mix if they miss out on their thirst for a signal-caller. Especially in today's NFL, acquiring a top-tier corner is by no means a "risky" transaction anymore, so while it doesn't necessarily make logical sense for a team to trade up ahead of the Cowboys to select a corner most assume won't get taken by them anyway, I view it more as a team theoretically removing risk to lock in a guaranteed starter at an important position.
And hey, even if one of those teams doesn't trade back, there's always the possibility the Panthers or Lions could select Horn under the premise of best player available, just like a certain someone suggested in his most recent mock.
Colts select offensive lineman in the first round (+145 on FanDuel)
I'll be curious to see what happens if a team trades out of the first round. If this ends up being a wash in that scenario, there's really no reason not to do this type of bet just given the fairly obvious need Indy seems to have at tackle.
There are enough second-tier tackles that I think the Colts could easily trade back with an inquiring team and still get someone to plug in for the retired Anthony Castonzo, and considering the later first-round depth likely available at their selection (WR, LB specifically), I just don't think their needs mesh anywhere else.
Packers select linebacker in the first round (+600 on DraftKings)
I could also see the Packers trading back out of the first round if some team is stupidly interested in adding a fifth-year option onto Kyle Trask or Davis Mills, but if they choose to stay at their pick, I think linebacker is entirely possible.
Most of the sportsbooks I checked seem to classify the "edge" guys as linebackers, which makes me feel a little more confident since the Packers would never actually select an interior linebacker in the first round.
But more importantly, I just don't see the likelihood the Packers select a wide receiver (+150) or offensive lineman (+250) in the first round, and while cornerback definitely makes sense (+400), it's hard to envision a scenario where one of the top four is still there. As a fan of the team, I'm going to whole-heartedly root for a WR pick, especially because the expected depth among draft prospects seems to line up well with Green Bay's needs, but I can also acknowledge past precedent sure seems to suggest there's no shot of it happening.
This is pretty much a no-doubter to me. As much as I'm on #TeamEtienne it sure seems as if Harris is a lock to go first among running backs, and the other two are even more guaranteed as first selections at their position.
This comes down to whether it's Bateman, Kadarius Toney or even Terrace Marshall for that final wide receiver selection because the first three seem pretty set in stone.
You could also bet on this with Toney as the last wide receiver for +400, which might make sense if you want to spread out your options, but I'll stand by my gut when it comes to Bateman's talent level. Maybe it's just the Big-10 fan in me, but I think the Minnesota product pretty seamlessly can fit within any offense, while Toney feels much more like a yards-after-catch target which might lessen his value for certain teams.