This article is part of our Team Previews series.
Houston Texans

Even before the Deshaun Watson saga began to unfold, turmoil within the organization already had set in. An unpopular trade involving DeAndre Hopkins last offseason was followed by an 0-4 start. Bill O'Brien's firing prompted established team leaders to bolt and led to a house cleaning.
Offseason Moves
Key Acquisitions
The team's backfield was fortified to help offset a cloudy QB situation.
Brought in to compete with incumbent starter David Johnson.
The likely replacement if Deshaun Watson is suspended or traded.
Drafting a signal-caller turned into a necessity this offseason.
His arrival forecasted the eventual trade of Randall Cobb.
Key Losses
Deserts sinking ship to compete for a Super Bowl with Arizona.
Price tag plus an injury history the team saw up close up led to his exit.
Aaron Rodgers got his wish, and the slot man was dealt to the Packers.
A Look Under the Hood
Head Coach: David Culley (Year 1)
Offensive Coordinator: Tim Kelly (Year 3) - Erhardt-Perkins scheme
Defensive Coordinator: Lovie Smith (Year 1) - 3-4 scheme
2021 Vegas Projected Wins: 5 (T-31st)
2020 Record: 4-12
2020 Points Scored: 384 (T-18th)
2020 Points Allowed: 464 (27th)
2020 Point Differential: -80 (26th)
2020 Run-Play Rate: 36.6 percent (30th)
2020 Offensive Snaps: 940 (32nd)
2020 PFF O-Line Ranking: No. 23
Projected 2021 Depth Chart
QB: Deshaun Watson / Tyrod Taylor / Davis Mills
RB: David Johnson / Phillip Lindsay / Mark Ingram / Rex Burkhead
WR1: Brandin Cooks / Andre Roberts
WR2: Nico Collins / Chris Conley
WR3: Anthony Miller / Keke Coutee
TE: Jordan Akins / Kahale Warring / Brevin Jordan
O-Line: LT Laremy Tunsil / LG Max Scharping / C Cole Toner / RG Marcus Cannon / RT Tytus Howard (RotoWire Rank: No. 19)
Kicker: Ka'imi Fairbairn
Top Storylines
Culley in Charge
Bill O'Brien's exit was loud. He had disagreements with players, members of the coaching staff, medical personnel and GMs. When a coach as divisive as O'Brien is shown the door, ownership typically looks to change the culture. Chairman Cal McNair thus tried to give new GM Nick Caserio what he was looking for in that respect, specifically an inspiring leader who can unify the organization. That's what the Texans believe they have in 65-year-old David Culley, who gets his first head coaching gig after 27 years as an NFL assistant. None of the other teams looking for a coach had Culley on their radar, but they weren't in the Texans' shoes. He's viewed as the right person for the job at this particular time, given his experience and demeanor.
Culley enters a difficult situation, inheriting a team that was built around a franchise quarterback whose status now is in question and an attack that has bid adieu to top-level wideouts two years in a row. Though Culley doesn't have a head coaching background, he reportedly impressed the Texans in his virtual and in-person interviews. The team's decision to load up on backfield depth points to a greater reliance on the running game, more so if Deshaun Watson isn't under center for the team. However, the O'Brien years took a toll on the roster, and playing from behind could be common in 2021.
Sorting out the Carries
Whether measured by conventional or advanced analytics, the Texans didn't run well in 2020. They were next to last in ground yardage per game (91.6) and attempts per game (21.5) and third to last in rushing touchdowns (10). Per Pro Football Focus, the Texans graded 26th in run blocking and one spot lower in overall rushing.
Moreover, the availability of Deshaun Watson, who accounted for more than 30 percent of the team's rushing yards, is uncertain. The lack of a consistent threat in that facet of the offense made things difficult for Watson (171 pressures, fourth-most in the NFL).
To improve in this area, the Texans added several experienced options this offseason. Phillip Lindsay and Mark Ingram join incumbent No. 1 David Johnson to form a three-headed backfield out of the gate, while Rex Burkhead could offer help down the road. Johnson is the leader entering training camp, but that's based only on his experience within the organization.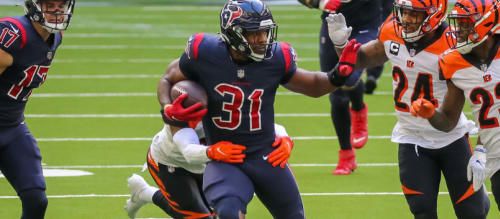 David Culley and Nick Caserio both come from teams that used multiple running backs, so a timeshare where the hot hand gets the most touches in any given week seems like a distinct possibility. Complicating matters is Watson's thorny situation. If he's not in the mix, the attack misses the threat of a dynamic playmaker that opposing defenses need to worry about.
Who are the Passing Targets?
Much here depends on the status of Deshaun Watson, who posted career-best numbers in 2020. If he ends up not being under center for the team, any targeting analysis will hinge on whether Tyrod Taylor can be as accurate as Watson, who led the NFL in completions over 20 yards with 69.
Considering the state of their roster, the Texans could end up trailing in a lot of games this season. The team moved on from Will Fuller, last year's top wide receiver before he got hit with a six-game suspension. Once he was out of the picture, Brandin Cooks became the No. 1 option. Cooks, who finished with 119 targets last year, should top that and then some. Who'll get the looks opposite him is a work in progress.
With that in mind, Houston drafted Nico Collins, 89th overall, out of Michigan. The 6-4, 215-pounder is a vertical threat and could have an immediate path to playing time, considering the cast of veteran options who he'll compete with this summer. Also in the mix for the team's vacated passing targets – and likely candidates for slot work – are trade acquisition Anthony Miller and Keke Coutee, who resurrected his career with 33 catches and three touchdowns last season.
Outside of the wideout corps, tight end Jordan Akins is an intriguing candidate. Among the returning pass catchers for the Texans, he had the second-most targets last season. Slotting in behind him are Kahale Warring and 2021 fifth-rounder Brevin Jordan.
Barometer
⬆️ Rising: QB Tyrod Taylor
Taylor profiles as the top alternative if Deshaun Watson moves on or is unavailable. Taylor doesn't ensure fantasy success, but the veteran signal-caller is a competent replacement-level thrower who brings added value as a runner.
⬇️ Falling: RB David Johnson
Johnson returns after a moderately productive 2020 season in which he topped 1,000 yards from scrimmage and scored eight TDs. However, the arrival of Phillip Lindsay and Mark Ingram muddles things, fantasy-wise.
😴 Sleeper: TE Jordan Akins
There's an opportunity for increased volume with Darren Fells gone. Houston tight ends combined for 100 targets, 75 catches, 886 yards and seven TDs in 2020, and Akins could benefit from target consolidation.
🌟 Pivotal Player: Deshaun Watson
After a 4-12 season, Watson requested a trade, but GM Nick Caserio indicated "zero interest" in moving the signal-caller. That was before off-field allegations against Watson surfaced, prompting police and NFL investigations. While he reported to training camp, there are several possible outcomes to his situation, and his standing with the Texans is unclear at this stage.
Medical Tent
RB Rex Burkhead
Burkhead underwent major knee surgery last December, and though he's still working his way back from that, he was not among the Texans sidelined at the start of camp. When healthy, his versatility is an asset, but he's joined a backfield full of capable NFL veterans. A best-case scenario for him to earn steady touches probably involves either David Johnson or Phillip Lindsay missing time, which would open an opportunity for Burkhead, assuming he's at or close to 100 percent. Mark Ingram also is in the mix and has the added cache of having played for coach David Culley while the two were in Baltimore the last two seasons.
Lindsay missed his final two games with the Broncos in 2020, landing on injured reserve due to hip and knee injuries. As training camp opened as a member of the Texans, the running back was good to go and will look to carve out a share of touches in a rebuilt backfield. To that point, Lindsay will be competing with an experienced trio of ballcarriers in David Johnson, Ingram and Burkhead.
Tunsil sat out the final week of the regular season in 2020 due to an ankle injury, which wasn't considered serious at the time and was viewed as being a case of a veteran not being made to play a meaningless game. He's back for training camp and continues to hold down the fort at left tackle.
Job Battle
Brandin Cooks will be the team's top wideout in 2021, but beyond that things are unsettled. With Randall Cobb having been dealt, look for Keke Coutee to vie for slot work with Anthony Miller, who arrived via trade with the Bears.
Beyond how things shake out on that front, there figures to be an open audition for snaps opposite Cooks. The Texans traded two draft picks to move up in the third round and select Nico Collins, and while it's not a lock he'll be ready to start by Week 1, Houston isn't expected to be a contender and could elect to let the Michigan product learn on the fly. Collins picked up the offense during offseason training activities, but that's a much different animal than training camp, preseason or the regular season.
If Collins is eased into the mix, Chris Conley is a candidate to see an expanded role out of the gate. Also jostling for wideout slotting are the likes of Isaiah Coulter, Chris Moore, Alex Erickson, Andre Roberts and Taywan Taylor.