This article is part of our DFS NFL series.
RotoWire has partnered with Pick8 Football for the NFL season!
Do you have have 2 minutes to WIN $1 million? Pick8 Football knows that time is money and that's why we have have partnered with them to offer this exciting new game. You have done all of the research for your fantasy team, reward yourself for all that work and enter to win $1 million FREE!
Check out the great promotions being offered when you sign up.
$5 credit on signup
WEEKLY PROMO CODE to get 1 FREE Ticket to play Pick8 (available to all registered users)
One DAILY FREE TICKET to play Pick8 every day you log in. (1 ticket per day, while promotion lasts)
Referral program: Invite a friend and you get 5 FREE Tickets and your friend gets 3 FREE Tickets to play Pick8.
FREE PROMO CODE for WEEK 7: NOFEAR49ERS
THE PICK8 CONTEST – HOW IT WORKS
Pick8 requires you to select who you think the BEST POSSIBLE player/team would be in a given week with NO salary restrictions, based on the following categories:
What's the Prize and How Do I WIN it?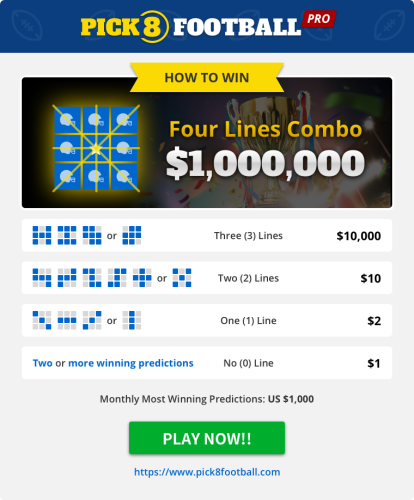 Pick8 will also give out $1,000 to the person with the most correct predictions made in the month. Invite your friends and earn more FREE tickets!
Go to Pick8 now for your chance to win One Million Dollars! You have already done the research for your other fantasy football contests and it is FREE!
As we navigate through the season, we are starting to see Top 5 candidates in every category crystallize a bit, but at this point, no one has come through with any of the top prizes! That won't stop us from trying, however
Before diving into Week 7, let's take a look at last week's winners in every category.
WEEK 6 RESULTS
QB Passing Yards - Jameis Winston
This was a bit of a surprise, as you figured interceptions and mistakes might creep into his stat line. Definitely a bingo-buster.
QB Completed Passes - Tom Brady
Way for Brady to throw us back, although both Winston and Deshaun Watson came mighty close to taking his spot.
RB Rushing Yards - Chris Carson
Here's one that we nailed on the head. Drake was our second pick, and he came in a dismal 22nd, bu if you took our first suggestion, you did all right!
RB Receiving Yards - Miles Sanders
I'm not surprised at all about the Eagles finally utilizing his abilities out of the backfield. Depending on the matchup, he's definitely someone to consider weekly.
WR Receiving Yards - Stefon Diggs
Diggs had one of those slate-breaking performances after making news about being traded. Perhaps he needs to complain more often! He has a high ceiling, but I don't know how I could slot him in here on any given week.
WR Receptions - Chris Godwin
Both Godwin and Evans came close here, which makes sense due to Winston's overwhelming score. It's hard to tell which of these two could go off here, but considering how volatile the Bucs are, they might not be worth considering.
FG Made - Matt Prater
Prater crushed this category with five field goals thanks to the Lions failing to convert in the red zone.
Defense Points Allowed - Broncos
The Titans were held to a goose-egg. Tennessee definitely needs to be a candidate to face off against in future weeks.
Week 7 Targets
QB Passing Yards
Carson Wentz, PHI at DAL
Wentz came in eighth last week, and he's lining up against the Cowboys, who rank 30th against the pass and have several question marks on defense to to injuries. This game is a classic rivalry contest that should bring out the best in both QBs, but Wentz is due to give us something special.
Matt Ryan, ATL vs. LAR
Ryan is arguably a better quarterback than Jimmy G, who handed it to the Rams last week. Atlanta has all of their weapons healthy and ready to play, and you have to assume Julio Jones, Mohomed Sanu, Austin Hooper and the rest could end up having a field day against a Rams team that has lost their way on both ends of the ball.
QB Passes Completed
Matt Ryan, ATL vs. LAR
Stacking these two categories is usually a given, but I'm going to the well with Ryan in some of my entries. He leads the league in completions and is a weekly option in this category. If I've got him in the first category, it's reasonable to expect a good result here as well.
Philip Rivers, LAC at TEN
The return of Hunter Henry has definitely opened up options for Rivers, and getting Melvin Gordon back hasn't hurt him either. Gordon's return hampers the output of Austin Ekeler, who is a great passing option for Rivers, and they may not need to throw as much against the lowly Titans - but the Chargers haven't been excelling on the defensive end, so this could be a closer game than most think. Rivers is the second-best pass completer in the league behind Ryan, so I think he's a good pivot in this spot.
RB Rushing Yards
Chris Carson, SEA vs. BAL
You have to go back to Carson this week because the matchup is simply too good to pass up. Baltimore is by far the worst team against the run, and 31st -ranked Minnesota is a full 280 yards ahead of them. Add in a home game with only Rashaad Penny as competition for carries, and you've got an obvious lock here for a second week.
Marlon Mack, IND vs. HOU
The Texans are coming off a signature win against the Chiefs, and while they were decent against Kansas City's three-headed rushing attack, Houston still ranks 29th against the run. One thing Indy has going for it is a solid offensive line, which has only allowed six sacks this season. Assuming Mack is healthy, he should lead a solid rushing attack, and if the game is close enough, we should see good totals from Mack.
RB Receiving Yards
David Johnson, ARI at NYG
With Austin Ekeler compromised and Christian McCaffrey on a bye, it makes sense to slide down to Johnson despite losing touches to Chase Edmonds last week. Even though Johnson is struggling with some injuries, he still managed 68 receiving yards last week, and he's facing a Giants D that ranks 30th versus pass-catching RBs.
Leonard Fournette, JAX at CIN
Gardner Minshew's last game is enough to give me pause, but a security blanket like Fournette should still yield decent totals against the Bengals defense that ranks 31st against pass-catching running backs. Despite a poor passing day for Jacksonville, Fournette managed to come in sixth for 46 yards.
WR Receiving Yards
Amari Cooper, DAL vs. PHI
He didn't do well last week, but I think Cooper has the right matchup to get back on track in Week 7. Philly has allowed a league-leading 11 touchdowns to opposing receivers, and while that's not the stat we are looking for, the Eagles trail only the Giants in receiving yards allowed.
Allen Robinson, CHI vs. NO
A bit of a stretch, but Robinson has almost single-handedly kept the Bears in games this season. The return of Taylor Gabriel is a worry to Robinson owners (like me), but I think the Bears will take their time with Gabriel, at least for this week. New Orleans is no slouch defensively, but they rank 24th against opposing receivers.
WR Receptions
Cooper Kupp, LAR vs. ATL
Here I go again, serving up Kupp. Rams fans have to be worried about how things are going currently, but if there was ever a week to get back on track, it could be this week against the Falcons. Atlanta's allowed the eighth-most receptions in the league with 83, and Kupp is Goff's most frequent target. I hope Kupp finally comes through.
Julian Edelman, NE at NYJ
The rejuvenated Jets will put up a fight, which will force Brady to push the offense into an air attack. Edelman could see a lot of targets coming his way, and he could end up beating his total of nine receptions from last week.
Field Goals Made
Matt Bryant, ATL vs. LAR
I think the Falcons' red-zone TD opportunities will drop a bit against the Rams, so I think we'll give a nod to Bryant to send a few more through the uprights this week.
I'll also still hold on to Wil Lutz as a high-percentage play.
Defense Points Allowed
49ERS vs. Redskins
The 49ers are staunch against the pass and that's about all the Redskins do. They have no running game to speak of, and it's about as easy of an opponent you'll face in the league right now.
VIKINGS vs. Lions
I'll admit, the Lions looked decent enough against Green Bay, but I'm not sold on their offensive potential. This is a bit of a contrarian move, but I'm counting on a regression from Detroit and a big day for the Vikings D.
The author(s) of this article may play in daily fantasy contests including – but not limited to – games that they have provided recommendations or advice on in this article. In the course of playing in these games using their personal accounts, it's possible that they will use players in their lineups or other strategies that differ from the recommendations they have provided above. The recommendations in this article do not necessarily reflect the views of RotoWire.