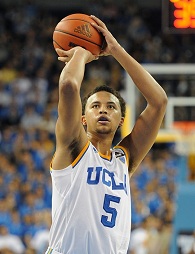 At RotoWire, we have staff writers dedicated to covering fantasy college basketball and we keep our information up-to-date throughout the year. It's our goal to make sure you have the advice and tools to win. Dive deep into our 2019 fantasy college basketball draft kit today and coast to victory.
Check out our top-150 fantasy rankings for the 2019–20 college basketball season.
Check out the top guards, forwards and centers for "power" conferences for the 2019–20 season.
Written previews of the top fantasy contributors by category for each of the major college basketball conferences.
Check out our comprehensive projections for all rotation players in power conference and projected top-25 teams.
Check out our projected depth charts for power conferences and many more.
We update our news page constantly with the latest updates on the college basketball players you care about.
Get familiar with injury and eligibility issues affecting teams across the entire Division 1 landscape.
Review stats from last season in metrics such as RotoWire's offensive and defensive efficiency. Click on any team to see a comprehensive breakdown of last season's stats, game results, depth chart and more.
Latest Fantasy College Basketball Articles
2020 NCAA Tournaments Cancelled

Following the cancellation of conference tournaments Thursday, the NCAA has announced that the 2020 men's and women's NCAA Basketball Tournaments will officially be cancelled as well.

College Hoops Barometer: Bubble Edition

With Selection Sunday right around the corner, Jesse Siegel shifts his focus from players to teams, discussing whose stock is rising and whose is falling heading into The Big Dance.

Bracketology Version 3.0: Battling for Top Seeds

Can Obi Toppin and the Flyers secure a No. 1 seed without a signature win? Adam Zdroik discusses the path ahead for the nation's top teams looking to grab 1 and 2-seeds in the NCAA Tournament.

College Hoops Barometer: Risers & Fallers

Naji Marshall is heating up at the right time for a Xavier team on the bubble, averaging 18.6 points and 8.4 rebounds over his last five and putting him among Jesse Siegel's risers in this week's Barometer.

RotoWire Bracketology: Version 2.0

The Bruins are in the field according to many experts, but Adam Zdroik believes they still have a bit of work to do. Adam takes a deep dive into the bubble in the latest Bracketology column.

College Hoops Barometer: Risers & Fallers

Udoka Azubuike is enjoying a scorching final stretch to his career, and the Jayhawks are riding a 13-game winning streak because of it. Jesse Siegel discusses who's hot and who's not this week in college hoops.

College Basketball Waiver Wire: Playoff Push

After a well-publicized biting incident, DeJon Jarreau is back in the starting lineup and producing for the Cougars in the final stretch. Chris Bennett breaks down the week's top waiver wire options.

College Hoops Barometer: Risers & Fallers

In the latest College Hoops Barometer, Jesse Siegel runs down a slew of impactful late-season injuries in the college basketball landscape, such as Auburn's high-flying Isaac Okoro.

College Basketball Waiver Wire: Playoff Edition

With double figures in four-straight games, have the Tar Heels finally found their backcourt complement to Cole Anthony? Chris Bennett discusses the rise of Christian Keeling and other waiver options this week.

College Hoops Barometer: Risers & Fallers

The SEC has a new leading scorer, with Breein Tyree lighting it up for fantasy owners in February. Jesse Siegel is back for his weekly examination of who's hot and who's not in the college hoops landscape.

RotoWire Bracketology: Version 1.0

The Blue Devils are one of several teams currently looking up at a possible No. 1 side, though their fate will hinge on the season's last few weeks. Adam Zdroik returns to discuss the state of the 2020 bracket.

College Hoops Barometer: Risers & Fallers

Often falling under the radar, the inaccurately-named Fatts Russell has been guiding Rhode Island to a hot start. Jesse Siegel looks at some noteworthy mid-major players in this week's column.

College Hoops Barometer: Risers & Fallers

How will Michigan fare without its star point guard in the short term? Jesse Siegel breaks down the landscape of college hoops, discussing who's hot and who's missing time due to injury and/or suspension.