This article is part of our DFS College Basketball series.
We have several explosive, high-profile teams on Tuesday's DraftKings slate, forcing us to make some tough decisions. Ohio State leads the way on the list of projected point totals, one of a small number of teams expected to hit 80 points.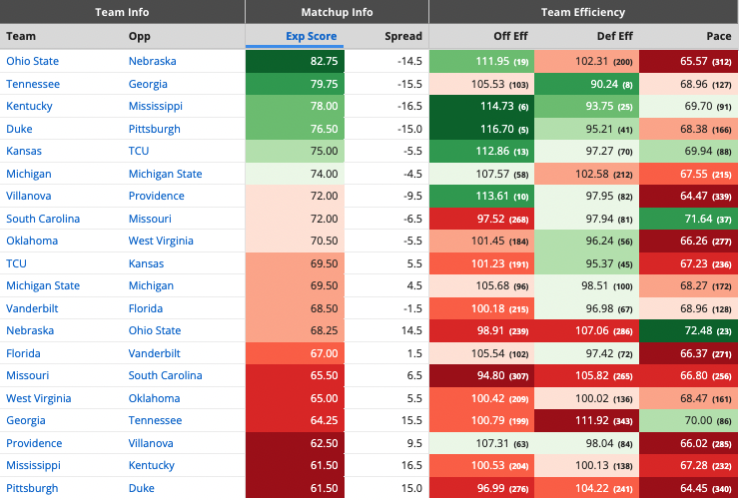 Top Players

E.J. Liddell, F, Ohio State ($8,600 DK)
Nebraska's defense is awful -- the worst in the conference in defensive efficiency -- both before and during Big Ten play. Ohio State's offense is the 11th best in the country, per KenPom's adjusted efficiency ratings, so it's no surprise Ohio State has the highest projected point total on the slate. This leads us to our primary target: E.J. Liddell. He leads the team in points, rebounds, blocks, and is second in assists, truly involved in every facet of the game. Liddell is currently ranked fifth in KenPom's Player of the Year standings, which makes sense considering that Liddell has earned KenPom's MVP honors in 13 of 26 games this season, an absurd rate considering only one player per game wins the distinction. All in all, Liddell has an extremely high ceiling, and there's a good chance it'll be put to use in this particular matchup.

Phlandrous Fleming, G, Florida ($6,400 DK, $6,100 FD)
On paper, Florida's offense and Vanderbilt's defense match up evenly, although a closer look reveals a massive weakness: Vanderbilt's interior defense. The Commodores are allowing SEC opponents to make over 53 percent of two-point attempts, the third-worst rate in the conference. Florida, meanwhile, is the most effective inside scoring team in the SEC, making 54 percent of two-point attempts, the highest percentage in the conference. Given this substantial advantage, Phlandrous Fleming should benefit in this matchup, as he's attempted the second-most two-point attempts for Florida this season. The best option in this game is Colin Castleton, and I would recommend taking him over Fleming and fitting him in your lineup if at all possible. But if you need salary flexibility, Fleming is your guy. Flying high, Fleming is coming off a season-high 27-point performance against Georgia. And while he's not facing a defense quite as bad as the Bulldogs, Fleming has scored 25-plus fantasy points (DK) in eight of his last 10 games, so he offers a solid floor, at the very least.
Middle Tier

Zakai Zeigler, G, Tennessee ($6,200 DK)
Georgia has the worst defense on the slate, by a wide margin, per KenPom's adjusted efficiency ratings. Tennessee is poised to have a high-scoring game, although another key advantage to note is the disparity in steals. Tennessee's defense is stealing the ball at the fourth-highest rate in the country, while Georgia's offense is allowing steals at the highest rate in the SEC during conference play. Zakai Zeigler is second on the team in steals, but more importantly, he's still stealing the ball at the fifth-highest rate among all qualified players in the country, per KenPom. Although he doesn't start, Zeigler has still scored 20-plus fantasy points in seven of his last eight games, and based on today's match, there's no reason to think that trend won't continue.

Tanner Groves, F, Oklahoma ($5,600 DK, $6,600 FD)
Since conference season started, West Virginia has had the worst defensive efficiency rating in the Big 12. The Mountaineers also haven't been great at rebounding, recording the worst defensive rebounding rate in the conference, giving Oklahoma a clear rebounding advantage in this matchup. Tanner Groves ranks second in rebounds among Sooners, a likely beneficiary in this spot. Additionally, Groves is averaging over 12 points per game this season, the most on the team. Oklahoma previously traveled to West Virginia back on Jan. 26 and Tanner Groves scored 21 points in that game, earning KenPom's MVP honors for his superior performance in a 10-point road victory.
Value Plays

Julius Marble II, F, Michigan State ($4,700 DK, $5,600 FD)
Michigan's defense has been shaky at times, ranking fourth-worst in the Big Ten in defensive efficiency during conference play. Julius Marble is an intriguing DFS candidate because his playing time and usage have shot up substantially over the past several games. Since Feb. 12 against Indiana, Marble has played 20-plus minutes in five straight games, averaging nearly 10 points per game and over seven rebounds per game in the process. Prior to the Feb.12 game, Marble had played 20-plus minutes in just one single game, so the expanded role appears to be intentional, culminating in Marble's second start of the season in the team's most recent game, a victory over Purdue. Marble will almost surely provide value at his current salary, assuming of course his recent playing time trends continue.

Malik Curry, G, West Virginia ($4,500 DK, $6,000 FD)
Oklahoma's defense hasn't been great during conference play, ranking third-worst in defensive efficiency in the Big 12, and ranking last in two-point field goal percentage allowed, three-point field-goal percentage allowed and effective field goal percentage allowed. West Virginia's offense has been heating up lately, scoring 80-plus points in its last two games, although unfortunately for the Mountaineers, its defense didn't help them convert those performances into victories. Either way, this is important to note because starting point guard Kedrian Johnson missed the first of the two games due to injury, and then hardly played in the most recent game. Backup point guard Malik Curry received most of the extra playing time and scored 46 total points over the last two games. Since conference season started, Curry is using 30 percent of his team's possessions when on the court, the highest usage rate in the Big 12, so we can expect his productivity to continue assuming his playing time holds steady.
The author(s) of this article may play in daily fantasy contests including – but not limited to – games that they have provided recommendations or advice on in this article. In the course of playing in these games using their personal accounts, it's possible that they will use players in their lineups or other strategies that differ from the recommendations they have provided above. The recommendations in this article do not necessarily reflect the views of RotoWire. Steve Peralta plays in daily fantasy contests using the following accounts: FanDuel: Buddusky, DraftKings: Buddusky24.