This article is part of our DFS College Basketball series.
Sunday brings a nine game slate on DraftKings, hosting their $10 Big Jam Contest with $8K up for grabs including $2K to first. FanDuel has its own five game slate, with all the games overlapping the main slate on DraftKings. The slate features four teams in the AP top-25, including a BIG10 matchup between No. 15 Illinois and Michigan. However, most of the value is going to come from lesser-known teams Sunday. Let's get on to the action.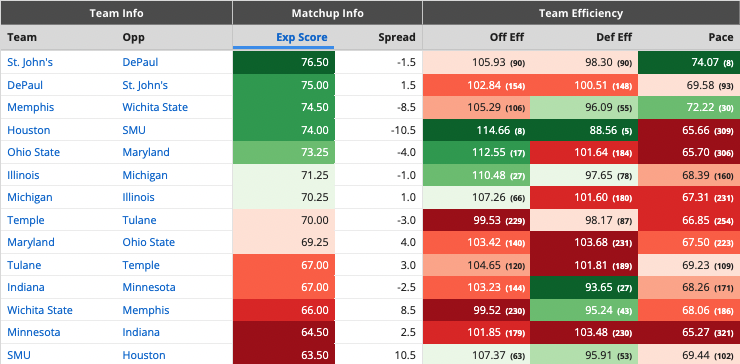 Top Players

Javon Freeman-Liberty, G, DePaul ($9,200 DK)
The DePaul - St. John's matchup has the highest implied total with a whopping 152 points. There is plenty of value to be had in this game, but no one is as dominant as Freeman-Liberty. The senior has an insane 38.9 percent usage rate over his last four games. On the season, he is averaging 20.8 points, 7.4 rebounds and 3.1 assists in 35 minutes for an average of 38.4 DK points. He's scored no less than 38,3 DK points in his last three games, despite the team scoring no more than 68 points. On Sunday DePaul is projected to score over 75 points. On the other side of the game, Julian Champagnie offers high upside as well, however Freeman-Liberty gets the slight edge for his recent ball dominance and massive usage rate.

Adama Sanogo, F, Connecticut ($7,500 DK, $8,000 FD)
Sanogo leads the Huskies this season in multiple categories averaging 15.3 points, 8.5 rebounds two blocks and an assist in 28 for an average of 32.3 DK points. The sophomore posted games of 38.0, 38.3 and 49.5 DK points in his last three games, providing around 6x return value. In the Huskies first meeting against the Hoyas, Sanogo was two rebounds shy of a double-double and put up 37 DK points in just 23 minutes. He should easily surpass that previous minute total in Sunday's rematch.
Middle Tier

Kevin Cross, F, Tulane ($6,800 DK)
Cross is a good place to start when looking at solid mid-tier value plays. He is one of three players on Tulane to average in double digits and he is the team leader in rebounds and blocks. The sophomore has a 27.8 percent usage rate which is tied for a team-high. In his last three games, he's scored 31.0, 35.5 and 40.3 DK points. The 40.3-point game came against Temple where he almost triple-doubled while playing 40 minutes in the overtime affair. Tulane will look to rely heavily on Cross Sunday.

David Jones, F, DePaul ($6,700 DK)
Going back to DePaul, Jones is a fantastic play if he starts. He has dropped $2,000 since he missed the last two games with an ankle injury. If he plays without any major minutes restrictions he holds massive value on Sunday. In his last three games before getting injured, he posted 64.5, 40.5 and 31.5 DK points. He scored in double digits over his last four games as well. This season, the sophomore is averaging 14.2 points, 7.3 rebounds and 2.3 assists in 30 minutes. His 27.4 percent usage rate is second on the team behind Freeman-Liberty. If Jones is ruled out, Courvoisier McCauley ($5,700) will likely start in his place.
Value Plays

Jaylen Forbes, G/F, Tulane ($6,600 DK)
Another solid option on Tulane, Forbes has been a consistent fantasy producer all season leading the Green Wave in minutes. Forbes has scored in double digits in each of his last six games, with four of them at least 22 points. He's scored over 40 DK points twice this month while scoring under 30 just twice. He has a high probability of producing 5x return value.

Zach Hicks, G/F, Temple ($5,500 DK)
The first time Tulane and Temple met they went into overtime and combined for 175 points. On the other side of the game, Hicks is a riskier player to target because he doesn't start. However, his salary gives allows more roster flexibility to play other big guys. Despite not starting, Hicks has played at least 24 minutes in the last four games. Over the last 10 games, he is just one of two players averaging double-digit scoring. In addition, he has at least seven rebounds in four of his last five games. In that stretch, he's averaging around 5x return value.
The author(s) of this article may play in daily fantasy contests including – but not limited to – games that they have provided recommendations or advice on in this article. In the course of playing in these games using their personal accounts, it's possible that they will use players in their lineups or other strategies that differ from the recommendations they have provided above. The recommendations in this article do not necessarily reflect the views of RotoWire. Jeromey Hodsdon plays in daily fantasy contests using the following accounts: Yahoo: jdoggg, DraftKings: jjspbowler, Fanduel: jdoggg123.