This article is part of our DFS College Basketball series.
College basketball season is upon us, and opening night is sure to deliver, with a quartet of blue bloods in the Champions Classic, as well as several other high-major teams in action. Here at RotoWire, we'll be using this format to cover each slate with three or more games all season long. Each preview will contain picks from the upper, middle and "value" tiers. The focus will largely be on DraftKings due to the contest size and more reactive pricing, but we'll occasional sneak in a FanDuel special for values that are simply too good to pass up.
With this being the inaugural column for the 2021-22 season, I first want to run down a few of the tools we offer here on RotoWire. The home base for most of our subscribers is the DFS Lineup Optimizer, but as any DFS player knows, an optimizer is only as good as how you use it. Sure, go ahead and give the default optimizer a spin, but if there's a play you're not sure of, we encourage using the red X to remove them from the lineup/pool. Think our formula might overvalue a mid-major player whose stats are built on lower competition? Boom, trust your gut and eliminate them from the pool. You can also "like" a player to increase their projection by 20 percent, or manually change a projection to whatever you like! If you agree with any of my recommendations below, use the padlock button to make sure they are featured in your lineup.
Some of my other favorite tools include the DFS Matchup Info page, where you can sort the games by implied total, as well as offensive/defensive efficiency stats calculated by our our developers behind the scenes. It's the perfect place to get started, as it will help you find out which games to target. Here's a sneak peek at what that page looks like for opening night: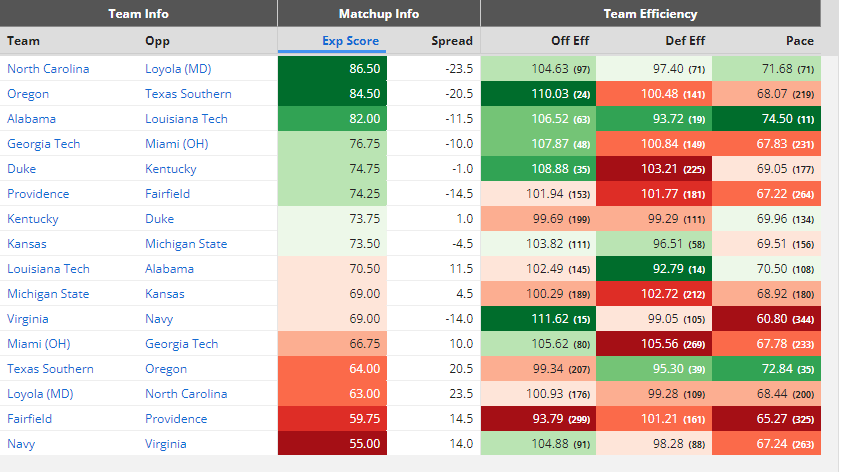 Once we get a few games into the season, our Advanced CBB Lineups page is a resource that's second to none. Here, you'll be able to view recent starters for each team in the player pool alongside salaries, with stats like minutes, usage and fantasy PPG included. It's perfect for researching mid-majors early in the year. You can also click on any team logo to navigate to a team-specific page, which shows usage from last year among other stats. Here's one for Kansas, which we'll refer to later in this column.
If you like what you see or just want to give these tools a try, head to rotowire.com/free for a free 10-day trial. We won't ask for a credit card, and the trial simply expires at its conclusion. That also covers every other sport on the site.
Without further delay, let's jump into my favorite plays on the Tuesday college basketball slate.
Top Players

Paolo Banchero, F, Duke ($8,800 DK, $8,000 FD)
We'll find out Tuesday if this hype is real for a player who seemingly has a chance to go No. 1 overall in the 2022 NBA Draft. The usage will almost certainly be there, as Banchero started Duke's only official exhibition game, putting up 21 points and nine rebounds in just over 20 minutes. Duke also has the highest implied total in the Champions Classic as of Monday afternoon. The downside is a deep and talented Kentucky frontcourt led by WVU transfer and rebounding machine Oscar Tshiebwe ($6,000 DK, $7,000 FD), but that may be more of a hinderance to Mark Williams ($7,100 DK, $6,000 FD) than anything else. The way I see it, FanDuel's soft pricing makes for really easy lineup building, so I'll probably use Banchero there. DraftKings calls for a more balanced approach that makes him difficult to afford, plus I may spread out my exposure to the other stars on that site.

TyTy Washington, G, Kentucky ($5,700 DK, $7,400 FD)
Washington started both Kentucky exhibition games and tied for the team high in scoring in each, so it's clear the freshman will be seeing heavy usage early. Sahvir Wheeler and Davion Mintz likely have the point guard minutes locked down, but Washington – a five-star freshman – should see most of the shooting guard minutes. Duke has big, athletic wings that will be tough to score on, but I like Washington in what should be a close game (as opposed to dabbling with other high majors expected to blow out their opponents). I wouldn't be shocked if this is the lowest price we see Washington on DraftKings all year, and FanDuel's soft pricing makes him viable even as one of the higher-priced options.

Michael Devoe, G, Georgia Tech ($9,300 DK)
As the highest-priced player on the DraftKings slate, I feel like Devoe at least deserves a mention here. This is a player who considered the NBA this offseason after averaging 15.0 ppg, but ultimately decided to return. Georgia Tech also loses its top-two scorers in Moses Wright (17.4 ppg) and Jose Alvarado (15.2 ppg), and one-time presumed starting point guard Bubba Parham (6.7 ppg) is out indefinitely with a torn meniscus. His opponent, Miami (OH), doesn't give much of a tempo boost, and the Redhawks are projected to be middle-of-the-pack defensive unit. The only real downside here is the blowout factor, though that's not always a guarantee to limit minutes much.
Middle Tier

Ochai Agbaji, G, Kansas ($6,800 DK, $6,200 FD)
With Jalen Wilson (11.8 ppg, 7.9 rpg) suspended for the first three games of the season, someone will be called upon to pick up both scoring and rebounding for a Kansas team with the second-highest implied total in the Champions Classic (as of Monday afternoon). Agbaji led the Jayhawks in scoring at 14.1 ppg last year and also rebounds well from the backcourt. Christian Braun ($5,900 DK, $5,100 FD) is also in play due to rebounding upside, while a pricier David McCormack ($7,500 DK, $6,900 FD) will be relied on more for similar reasoning, though he carries more foul trouble risk (look for MSU to keep their bigs fresh with at least a four-man rotation). Agbagi also had the third-highest usage rate among starters last season, trailing only McCormack and Wilson. It's not exactly clear who gets Wilson's starting spot, but Drake transfer Joseph Yesufu ($4,300 DK, $5,900 FD) could see a minutes boost alongside the appropriately-priced Remy Martin ($8,000 DK, $7,600 FD) in the KU backcourt. Yesufu averaged 22.4 ppg during the final seven games of Drake's season and is capable of lighting it up from distance at 38.4 percent, so there's potential value here on DK, especially for GPPs. Yesufu wasn't particularly great in KU's only exhibition, but fellow guard Jalen Coleman-Lands is tending to a toe injury, so his best shot to earn minutes might be early.

Jacob Young, G, Oregon ($6,900 DK)
I'll admit I'm not quite as confident in this one, as Oregon hasn't played any official exhibition games, so it's unclear how its rotation will shake out. I still felt like I needed to highlight the Ducks, as they go up against a Texas Southern team that lost its best player in Michael Weathers, plus is known for playing up-tempo. The Tigers were ranked No. 45 in adjusted tempo last season per KenPom, and KenPom projects them as the 20th-fastest pace in 2021-22. Young is a Rutgers transfer that logged 14.1 ppg last year while shooting 36.9 percent from distance, so there's definitely GPP upside here. Will Richardson ($8,800) is a safer play who expects to have the ball in his hands more, but he comes with a big price tag. Quincy Guerrier ($8,400) was a stud for Syracuse last season and could go off too, though it's unclear how the forward usage shakes out with five-star freshman Nate Bittle ($7,400) in the mix as well. KenPom also predicts a 21-point victory for the Ducks, so if you want a deeper dive/Bittle pivot, Francis Kepnang is tempting at $4,600. Early in the offseason, Jon Rothstein of CBS Sports predicted Kepnang would be the starting center, rounding out a lineup with Richardson, Young, Guerrier and Oklahoma transfer De'Vion Harmon.
Values

Keon Ellis, Alabama ($4,800 DK, $3,700 FD)
Sometimes opening night results in mispriced players, and that's exactly what we have here. Ellis started the last five games of the 2020-21 season for the Crimson Tide, but he doesn't have to start to be productive. There was a stretch of five SEC games last season where Ellis averaged 23.5 DK points/game despite just getting 20.0 mpg as a reserve. Jahvon Quinerly and Jaden Shackelford are back for Alabama this year along with stud freshman J.D. Davison, but this is a fast-paced team that will have plenty of scoring opportunities, especially with John Petty and his 12.6 ppg no longer with the program. In a plus-tempo matchup that might be closer than the experts think, I'll have heavy exposure to Ellis for salary relief. Also notable is the fact that he led the Tide with 21 points in their only exhibition contest.

Gabe Brown, F, Michigan State ($4,400 DK, $4,500 FD)
Tyson Walker ($7,400 DK, $7,800 FD) and freshman Max Christie ($5,600 DK, $5,300 FD) get most of the recognition for MSU and are expected to be the backcourt starters, but Brown seems to be flying under the radar as the second-leading returning scorer from last year. The Spartans have 32.8 ppg to replace following the losses of Aaron Henry, Josh Langford and Rocket Watts, and while Christie could get the bulk as a freshman, Walker could concede minutes to A.J. Hoggard. In comes Brown, who started both MSU exhibition games and recorded double digits in each, with a team-high 19 back on Oct. 27, where he led all starters in field goals attempted. Brown is also a capable rebounder and recorded a block in both exhibitions, so there are many ways he can contribute. This is arguably the "free square" of the entire opening night. A great case can be made for Christie too, as it's not uncommon for five-star freshman to get mispriced on opening night, and exhibition box scores suggest a shot volume equal or greater than Brown.
FanDuel Special

Charles Bediako, F, Alabama ($6,100 DK, $3,300 FD)
We shouldn't need much more value on FanDuel due to the aforementioned pricing tendencies, but I wanted to highlight Bediako as the player with the highest salary difference between the two sites. I don't trust him at his DK price point, but the FD price – combined with a few of the other values I mentioned – should allow you to do whatever you want with the rest of your lineup. Bediako is a four-star freshman ranked No. 35 overall in this year's recruiting class (per ESPN) who stands at 6-10 and is set to man the middle for the Tide, essentially taking on the Jordan Bruner role. He started Alabama's exhibition (and was one of only eight players featured), where he recorded five points, seven rebounds and three blocks. Also helping his case is the fact fellow center Alex Tchikou is serving a two-game suspension. The only issue is foul trouble – a killer if you're new to CBB DFS. If you need a safer option and don't trust Ellis, five-star freshman J.D. Davison ($6,000 DK, $5,700 FD) might be your man. He led the starters with 19 in the exhibition, and might be less prone to blowout risk, as Alabama will want to get him reps.
The author(s) of this article may play in daily fantasy contests including – but not limited to – games that they have provided recommendations or advice on in this article. In the course of playing in these games using their personal accounts, it's possible that they will use players in their lineups or other strategies that differ from the recommendations they have provided above. The recommendations in this article do not necessarily reflect the views of RotoWire. Jake Letarski plays in daily fantasy contests using the following accounts: FanDuel: rotojakeski, DraftKings: RotoJakeSki.