This article is part of our MLB Observations series.
The first NFBC Beat Chris Liss League took place tonight – it was $350 to enter, $1400 for the league prize and $125K for the overall prize. It's a 12-team standard 5 x 5 format with the usual roster construction and snake draft. I drew the eighth pick.
Here are the full results: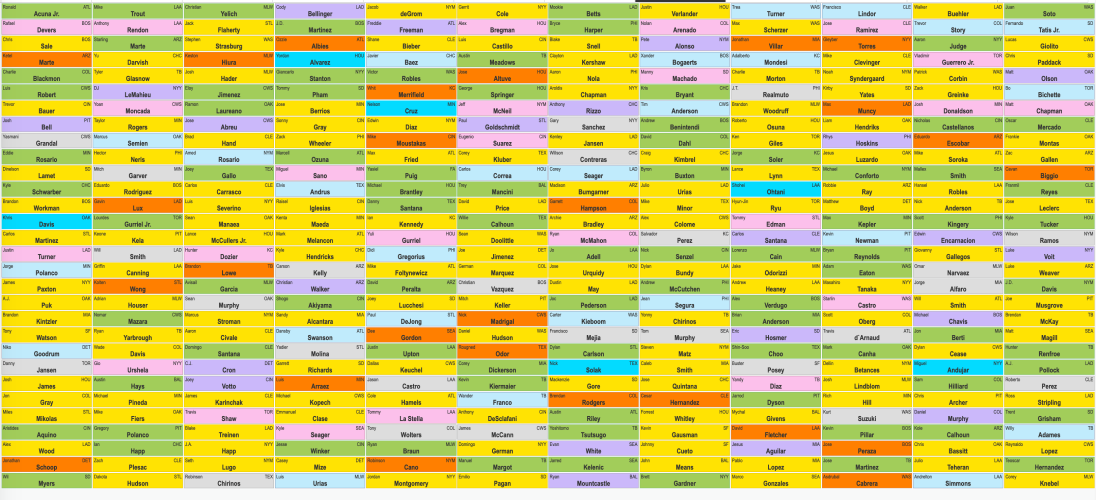 I used a hybrid cheat sheet, consisting of recent NFBC ADP (two-thirds weight) and two projections algorithms, Steamer and Derek Carty's The Bat, given one sixth weight each. The idea was to mine the best information available by combining the vast knowledge contained in the high-stakes market with the most predictive performance metrics. The market handicaps who's slated for closer roles and how healthy players looked late in the season, while the projections systems aren't mislead by recency bias, buzzy players or cosmetic results not commensurate with underlying skills.
1.8 Justin Verlander - I considered Francisco Lindor, but Verlander was higher on my list, his projected stats are more valuable than Lindor's, and I didn't like the pitchers likely to be available in Round 2.
2.5 Nolan Arenado - This was a boring value pick, but I snapped called once Max Scherzer and Jose Ramirez were taken ahead of him. As long as Arenado stays healthy and in Coors all year, this is about as safe as it gets.
3.8 Pete Alonso - I hated this pick, but he was the top player on my board, first base is thin, and you need more power than ever before in this environment. But I knew stolen bases would be an issue for me as the draft wore on, and in an overall contest like this, you cannot afford to punt a category.
4.5 Xander Bogaerts - Another boring pick, but I love him in the fourth round. Batting average, power, runs and RBI, and still only 27 years old. It cost me Clayton Kershaw – who I like this year – but after I took a pitcher in the first round, I wanted to solidify my hitting. It also didn't help me in steals, but I still felt I should go value over category scarcity with players like Victor Robles still on the board.
5.8 Manny Machado - What do you know, Robles went three picks before me. Steals were becoming a huge problem, but I wasn't going to reach into the next tier. Instead, I got another player near his peak who should be fully healthy after a down year.
6.5 Kris Bryant - Again, I didn't see the value in reaching for steals over a cornerstone type player slated for 150 games. Bryant's outfield eligibility (I had too many infielders) was also a reason for the pick.
7.8 Tim Anderson - My first concession to speed, and not enough of it. Anderson also won a batting title last year, and he wasn't too far down the hybrid list.
8.5 Andrew Benintendi - He had a bad year, but he's an outfielder (which I needed), he runs a little and used to run more, might hit leadoff in a good lineup and is still only 25. I was still light in steals, but you don't need a ton to compete.
9.8 David Dahl - This was a swing-for-the-fences pick on a player that's been good on the rare occasions he's been healthy. He also fills another outfield slot, but I was getting light on pitching and had no saves, either.
10.5 Craig Kimbrel - I had missed Kenley Jansen by one pick in Round 9, so I grabbed Kimbrel on the way back. I love old warhorse closers with big contracts that have done it for years, even though Kimbrel was terrible last year.
11.8 Byron Buxton - I still needed steals and another OF and almost took him in Round 10, but I didn't because I not "the Buxton guy." Now I had enough speed, but only one starting pitcher.
12.5 Julio Urias - I had Shohei Ohtani queued up, but he went one pick before me, so I settled for Urias who was once an elite prospect and who should be turned loose this year. Still, he probably has an innings ceiling and is not an ideal No. 2 starter.
13.8 Mike Minor - He was good last year when Texas was an extreme hitter's park, and now he should be in a much better environment. Also a good source of Ks.
14.5 Alex Colome - It was 50/50 between him and Archie Bradley, and I went with the experienced closer.
15.8 Salvador Perez - I missed Sean Doolittle by three picks, so I picked the catcher the projections systems love this year. You cannot have too much power.
16.5 Nick Senzel - He wasn't great last year, but he was a good prospect, and he also steals bases. It's not ideal that I'm dependent on Buxton and Senzel for speed, but that's the cost of not overpaying for it early.
17.8 Dylan Bundy - I was targeting two sleeper pitchers, Mike Foltynewicz and Bundy, so once I saw Folty go, I didn't want to miss out. Bundy was a massive prospect in the minors and is finally freed of the Orioles park and organization.
18.5 Andrew McCutchen - You don't usually love 33-year olds coming off knee surgery, but McCutchen was a run-scoring machine last year before he got hurt, and he should have a big role again if he's healthy.
19.8 Jean Segura - I was surprised to see him still on the board. He stole only 10 bases last year, but he's a good bet for batting average, and he could easily steal 15 or 20 again at age 30.
20.5 Yonny Chirinos - He was good last year in limited work, and apparently he's showed up in shape this year and impressed early on. But I just needed any starting pitcher with a pulse.
21.8 Tom Murphy - He raked last year and should have the starting job this season. I was happy with the price I paid for my catchers.
22.5 Steven Matz - He was actually very good last year, but for a couple starts, in at least one of which his defense destroyed him. He's also held up better health-wise the last two years.
23.8 Caleb Smith - This was a dumb pick. He was the highest starting pitcher on my hybrid cheat sheet, but this far into the draft, I should have thrown that out. He was great early last year, then hurt his hip and got pummeled, so let's hope his bad finish was due to not being entirely healthy. But I should have gambled on Josh Lindblom instead who didn't make it back to me.
24.5 Jose Quintana - Also a mediocre pick, but I felt I needed some innings early on while I figure out the non-Verlander part of the rotation.
25.8 Cesar Hernandez - I still didn't have a starting second baseman, so Hernandez is it. He'll be in a good park and decent lineup and even chip in a few steals.
26.5 Forrest Whitley - He's not slated to be in the rotation to open the year, but he pitched well in the fall league and still has a high ceiling. We'll see how long I can hold onto him.
27.8 Kevin Gausman - He's in an easy place to pitch, and I'll need starts and innings early on. Wins won't be easy to come by, though.
28.5 Johnny Cueto - See Gausman, Kevin. Plus Cueto's velocity was up at the end of last year,
29.8 John Means - He's actually a good pitcher, and the organization might be improving in terms of developing players. The environment is obviously terrible though.
30.5 Brett Gardner - Another player who might play almost every day and even steal an occasional base.
Bottom line, this was as tough draft. I stayed disciplined, didn't reach for speed, got enough of it in the end, but it cost me starting pitching. That said, I have one of the league's dominant aces, and pitching is something you can find in a 12-team format. I also got some high-upside players mixed with some last year's bums but will need my mediocre closers to hold down the fort.
By Position:
1B Pete Alonso
OF Kris Bryant/Andrew Benintendi/David Dahl/Byron Buxton/Nick Senzel;
SP Justin Verlander/Julio Urias/Mike Minor/Dylan Bundy/Yonny Chirinos/Steven Matz/TBD